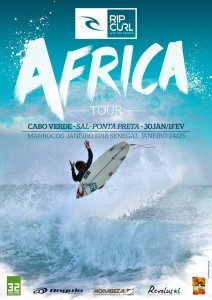 Here is the poster of the event, hope that we can add some more sponsors on the bottom before printing….
Thanks to Gaby for the shoot and Julien  (Rip Curl Graphic Designer) for the Artwork and all the people already engaged in this event.
Kabungo and Robertney the 2 CV riders on  the Tour are now in their Visa process for Marrocos, hope they can get it asap to be able to go there before for training and be used to the cold water from Taghazout.
Stay tune for the next news….Aloha  Jeres.